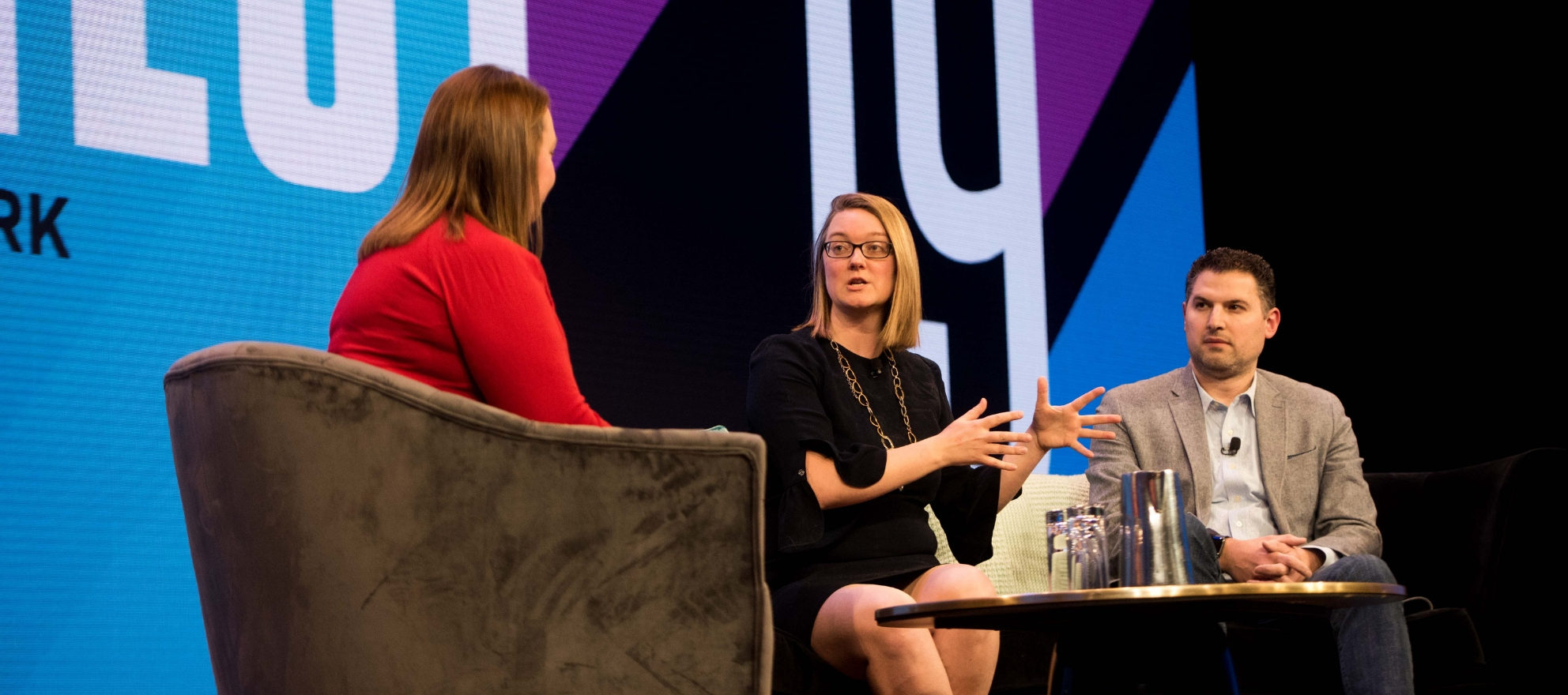 As a nationally recognized real estate speaker, I love helping fellow Realtors grow their business. When I moved to Chicago, I didn't know a single person in the Chicagoland area and I had never practiced real estate before (I had previously owned two non-real estate businesses which I sold to foreign investors) yet I was able to quickly grow a successful real estate business and within 4 years was averaging $30M a year in sales. If I can do, so can your agents and I'd like to show them how.
My presentations are jam packed with practical real estate tips for new agents through experienced agents; participants often describe my classes as "drinking from a firehose" as they leave with pages filled with great ideas they can quickly implement to grow their business.
I offer:
Keynote speeches
Half and full day classes
Continuing education (CE)
Motivational Speeches
Training for Association Staff
Webinars
If your group or association wants fresh content from an active top producing agent who is in the trenches every day then I'd be happy to help. In each session I open my playbook to show exactly how I've grown my business as well as share tips from other top producers around the country, giving candid advice about what works and doesn't work, as well as give participants scripts and templates they can implement immediately. Contact me today for availability and pricing information.
Speaking Examples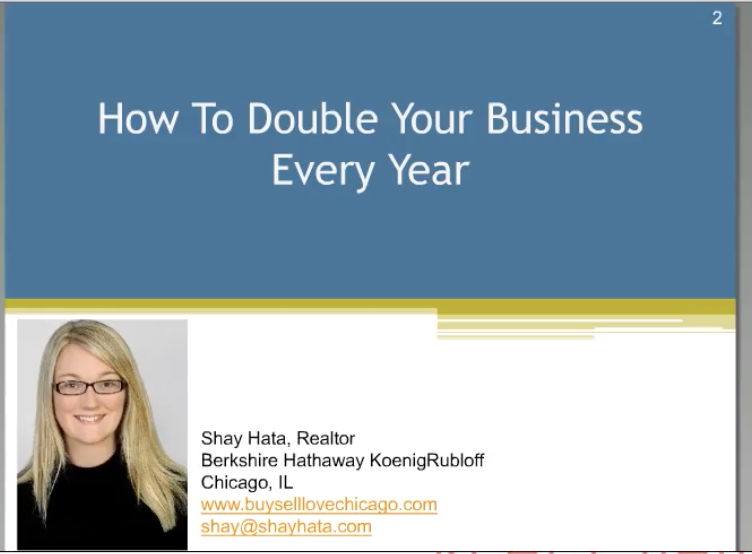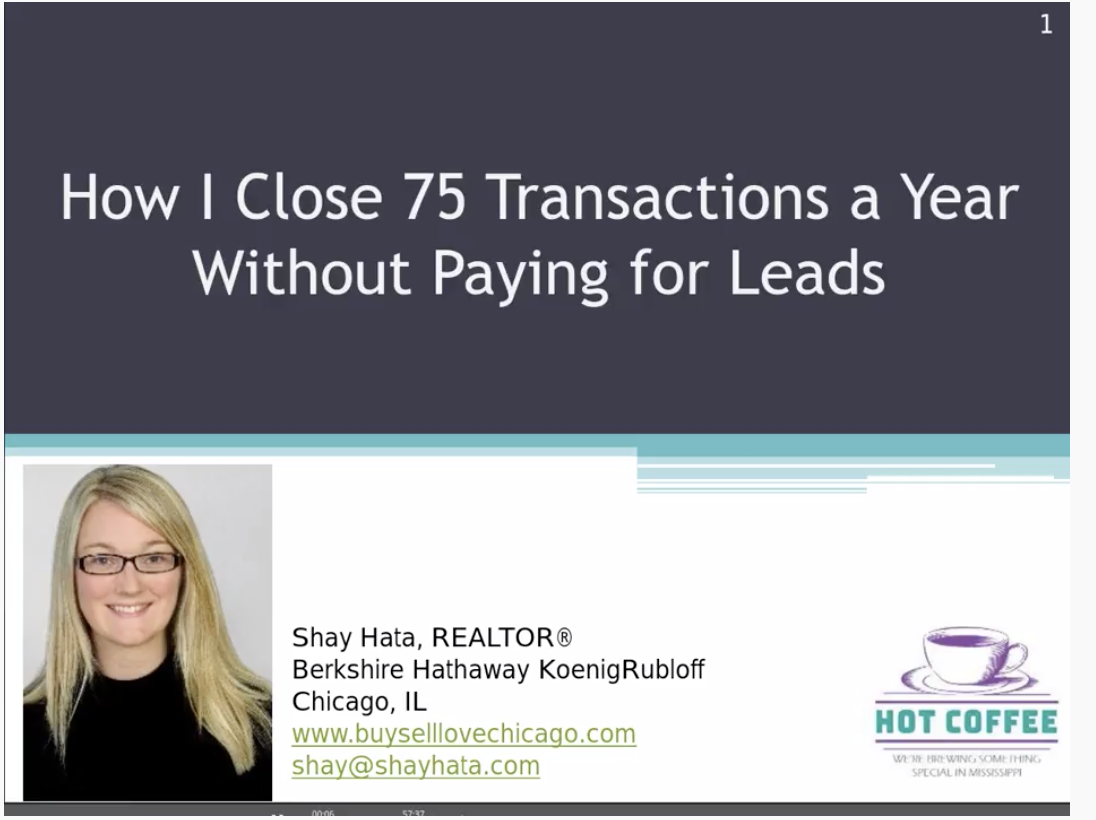 Speaking Topics
15 Unique Lead Generation Ideas
Amazing Client Events, Gifts and Mailings
Attract More Buyers and Earn Their Referrals
Automate Your Business to Increase Efficiency
Double Your Business in One Year
How I Close 75 Transactions a Year Without Buying Leads
How to Not Get Sued and Protect Your Clients from Cyber Fraud
New Agents: How To Quickly Grow Your Business
Tips for Top Producers
When and How to Start A Team
Win More Listings and Earn Their Referrals
and more...
Upcoming Speaking Engagements
Recent Speaking Engagements
C.A.R. Business Products/Realvolve:

Systems and Habits of Winning Teams & Agents Webinar - April 2021

Tennessee Realtors

®

: Ten Creative Lead Generation Ideas Webinar - March 2021

Lawrence Board of REALTORS® : Unique Lead Generation Ideas Webinar- February 2021
Prescott Area Association of REALTORS

®: 15 Creative Lead Ideas Webinar - Janaury 2021

Weserv - West & SouthEast Realtors of the Valley: 10 Tips to Grow Your Business In 2021 Webinar - January 2021
GBRAR - Greater Baton Rouge Association of Realtors: 2021 Business Planning Webinar - December 2020
Realvolve + Firepoint: New Year's Resolutions of Top Producing Teams - Panelist - December 2020
Michigan Realtors: Effective Lead Generation Ideas and Winning More Ideas Webinar - October 2020
Weserv - West & SouthEast Realtors of the Valley Realtors: Winning More Listings and Earning Their Referrals and 15 Unique Lead Generation Ideas Webinars- September 2020
Weserv - West & SouthEast Realtors of the Valley Realtors: Winning More Listings and Earning Their Referrals Webinar - September 2020
GBRAR - Greater Baton Rouge Association of Realtors: How to Win Multiple Offers for Buyers and Manage Multiple Offers for Sellers WEbinar - August 2020
WeSERV West Valley REALTORS Zoom presentation: Surviving and Thriving during Covid19! -April 2020
Kansas City Regional Association of REALTORS®: Automate Communication - March 2020
Speaker at Remerica of Michigan - March 2020 - A Day of Education
Speaker for OREA Conference in Canada - Feb 2020
Speaker at Sellabration - Feb 2020
Speaker for the Sarasota Florida Association - Feb 2020
Speaker at NAR Annual Conference - Nov 2019
Speaker at Triple Play - Dec 2019
Webinar Speaker for Dynamic Properties in Anchorage Alaska – Oct 2019
Speaker WCR Detroit Michigan – Oct 2019
CRS/RRC Webinar – Oct 2019
WCR Webinar – Sept 2019
CRS/RRC Webinar – Sept 2019
Speaker for the Arcadia Association in Louisiana – Sept 2019
Speaker for Ohio Association of Realtors Annual Conference – Sept 2019
Speaker for the Greater Tulsa Association of Realtors – Sept 2019
Speaker for Utah Association – Aug 2019
Webinar for Arizona Association of Realtors – Aug 2029
Speaker for Park City Utah Association – Aug 2019
Speaker for FC Tucker Indianapolis – July 2019
Speaker at RAPDD – April 2019
Panelist at Arizona Realtor Convention – March 2019
Speaker at Inman Connect in NYC – Jan 2019
CRS/RRC Webinar – Jan 2019
Keynote for Montague Miller & Company Annual Business Planning Meeting in Charlotesville, NC – Nov 2018
Speaker for 4th Quarter Sales Rally at Century 21 Scheetz in Indianapolis – Nov 2018
Speaker and Panelist at NAR Tech Edge Event in Arlington, VA – Nov 2018
WCR Speaker at NAR Convention – Nov 2018
NAR Conventional Speaker and Panelist – Nov 2018
Speaker and Panelist at NAR Tech Edge Event in Seattle, WA – Oct 2018
Speaker for Mainstreet Organization of Realtors in Downer's Grove, IL – Oct 2018
Speaker for FC Tucker brokerage in Indianapolis – Sept 2018
Speaker at Georgia Association of Realtors Annual Convention in Point Clear, Alabama – Sept 2018
CRS/RRC Webinar – Aug 2018
CRS/RRC Webinar – May 2018
Speaker at REBCNashville, Nashville, TN – April 2018
Webinar for Mississippi Association of Realtors - December 2017
WCR Panelist at NAR Convention, Chicago IL - November 2017
Speaker for FC Tucker brokerage in Indianapolis - September 2017
Speaker for Chicago Association of Realtors in Chicago, IL – September 2017
Panelist at NAR Tech Edge in Chicago, IL - May 2017
Speaker at REBCNashville, Nashville, TN - April 2017
Speaker for Fidelity National Title, Maui HI - March 2017
Speaker for Oahu Association of Realtors, Oahu HI - March 2017
Panelist at Inman Connect, San Fran, CA - Aug 2016
Speaker at REBCNashville, Nashville, TN - April 2015
NAR Featured Conference Attendee 2014 - 2018